Discover more from Story Alley
Inspiring success stories, audience building tips and exciting updates from the Salley community
Over 1,000 subscribers
Salley Community Update, June 2023
What we were up to during the month of June
Hey friends,
Hope you're all having an amazing fourth of July weekend! As you may already know, we're building Salley to help you master AI-proof skills, like building a strong online presence, among others. This way, you'll have plenty of career opportunities as AI changes the way we work.
June flew by so fast for us. As the saying goes, time flies by when you're having fun! For those of you wondering, here's what we were up to:

Upcoming mixer fireside chat with Elizabeth Gascoigne (July 27)
On Thursday, July 27, we're hosting the one and only Elizabeth Gascoigne for a mixer and fireside chat. ​Elizabeth is leading the non-alcoholic movement in NYC and across several major cities in the US. Her company, Absence of Proof is elevating the non-alcoholic nightlife and providing inclusive options.
Join us for an exciting evening as Elizabeth shares her journey along with tips for building highly engaged communities in New York, Detroit, Los Angeles, DC, Chicago, among others.
Recently, she was featured as one of Adweek's Creative 100 for 2023! She's also been written about in the Financial Times, ABC News, Fortune, US Magazine, among others. And it doesn't stop there, she just recently announced a partnership with the New York Mets!
Elizabeth will be sharing her insights and lessons on how she built a highly engaged community and brand across 7 cities in less than a year.
Recap fireside chat with Andrew Yeung
​Andrew is the mastermind behind some of NYC's most epic tech parties, and he's built a following of almost 40,000 people across Twitter and Linkedin in the process.
Two years ago, Andrew arrived in the Big Apple without knowing a soul, in the midst of a global pandemic. But he refused to let isolation hold him back. Instead, he turned to hosting dinners to bring strangers together, and what started as small gatherings quickly evolved into massive events with over 2,000 attendees!

The event was packed and there was lots of excitement in the room. Here are some of the pictures, the energy was electric!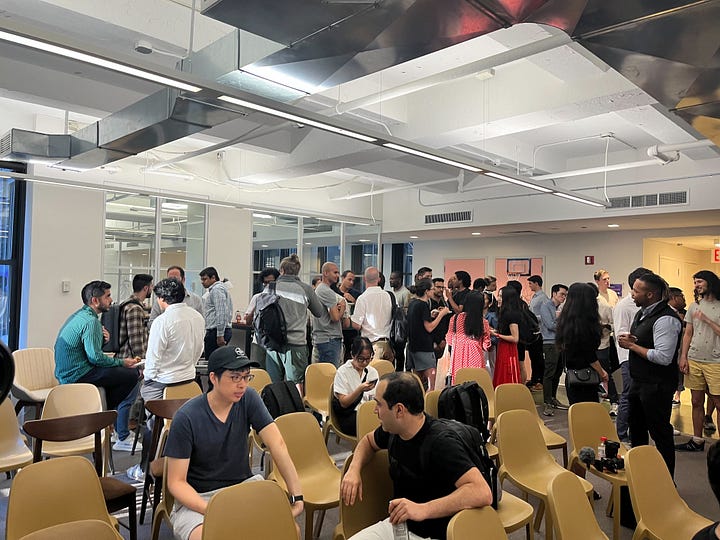 Welcome Ellen Brandenberger, our new advisory board member at Salley
We're excited to have Ellen join our advisory board! She has more than 10 years of experience leading product for some of the best tech companies in the learning space.
She's now the Director of Product Management, Innovation at Stack Overflow. Prior to this, she led product at Chegg, Thinkful, Pearson, Gradeable, among others. She also holds a Master's Degree in Education from Harvard and was a researcher there as well.
A few things we'd appreciate your help with:
if you know an experienced full-stack engineer with deep AI knowledge looking to join an early stage startup, send them my way :)

Share this with someone who might be interested in staying up to date with Salley

Reach out if you have any ideas on how we can collaborate to help people master relevant skills for work, we'll be adding more skills on Salley soon!
Wishing you an amazing week ahead,

Richard
Founder at Salley
---
What is Salley?

Salley is your personal career coach that helps you to future-proof your career. As the workplace evolves due to AI, Salley helps you to easily master relevant skills that can't be easily automated.skills. Learn more at salley.co